Sunday, December 17, 2017 – Club Meeting – Lebanon, TN

December's club meeting and Christmas party will be held on Sunday, December 17th at the home of David Denney. The social hour will begin at noon, followed by the Christmas meal at 1 PM and the meeting will begin when the meal is finished  (approximately  2:00  PM).
Saturday, December 30, 2017 – Cars & Coffee – La Vergne, TN

Saturday, March 3, 2018 – 4th Meeting of the Mopars -Alexander City, AL
(Click flyer for website)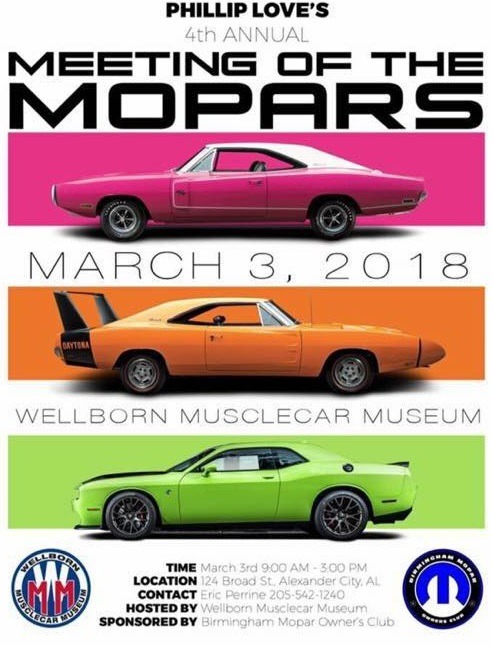 Friday & Saturday, March 16-17, 2018 – Big Easy 17th Annual Show – Kenner, LA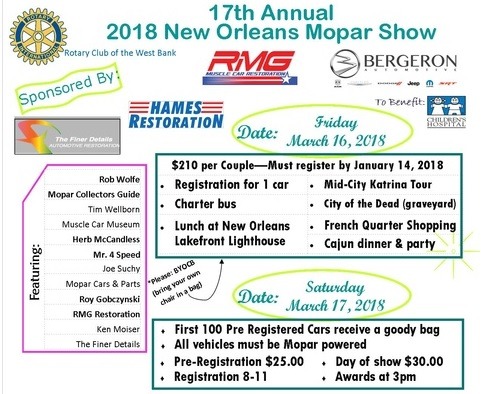 Friday – New Orleans Experience
Saturday – 17th Annual Show
Saturday, June 16, 2018 – TN Valley Mopar Show – Harvest, AL
20th Annual Show and Go
(Click flyer for website)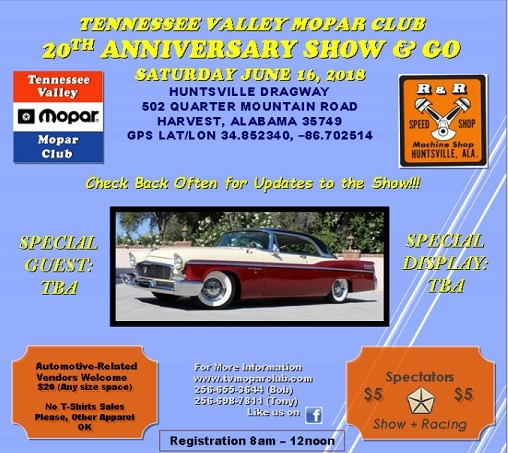 Huntsville Dragway
502 Quarter Mountain Road
Harvest, AL
Directions:
– I65 South to the Ardmore exit
– East through Ardmore following route 53
– After about 6 miles you will see car show signs on your left.
– Simply follow them to the race track
(left onto Jim McLemore Rd ; right onto Jeff Rd NW ; left onto Carters Gin Rd then right onto Quarter Mountain Rd)
Saturday, June 23, 2018 – 30th Annual East TN Mopar "Fun in the Sun" All Mopar Car Show
Hold the date – Flyer coming!!
Saturday, September 22, 2018 – Music City Mopar Show – Lebanon, TN