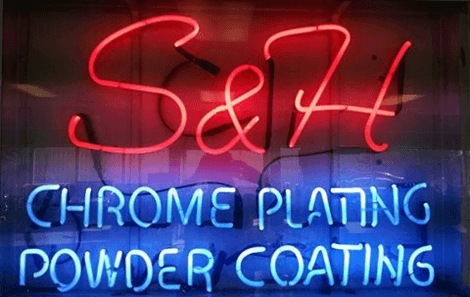 S&H Chrome Plating invites you to browse our website, meet our staff, and to give us a call (615.865.0100) with any questions! Our main goal is customer satisfaction and we strive to complete that goal every day. We put forth an immense amount of effort to keep our customers happy and our work and testimonials reflect that.
We take special care in our chrome plating process and understand the importance of keeping each piece accounted for by itemizing each piece as it starts the chrome plating process. We do this by taking a photo of each piece, giving it an item number, and placing each piece in a bag with its item number. Each employee checks off each piece as it goes into the different phases of the process.
We were established in 1979, S&H started out as a one man process, then grew to a three man process, then exploded into a sixteen man operation. At S&H Chrome Plating we believe in doing everything in house, located in Tennessee. We are a family owned and operated business that has proudly served the heart of Tennessee for the last 36 years. We take pride in being a one stop shop for all of your chrome plating needs
PRODUCTION TIME
We strive to get your pieces back to you as soon as possible and we are proud of our four to six week production time from start to finish. This projected time is an estimated amount of time and could take a lesser amount of time if the project is smaller than our standard project. The production time could be extended to ten to twelve weeks due to the size of the project and condition of the parts.