I met a gentleman at the Ardmore Car Show on August 9th, 2014. It was raining and his GTO was parked behind me and I asked him to join us under our tent while we waited for the weather to clear. We began discussing cars in general and then Mopars in particular. It turns out that he owned a large number of Mopars over the years and was currently selling portions of his 23 vehicle collection ranging from Lil' Red Express trucks to an award winning 1971 Road Runner. In fact, he received a couple calls about some of them during our discussion. Bottom line, I met him at his house in northern Alabama the next day to view his vehicles … in particular the 1971 Roadrunner and a 1970 Charger R/T (possibly an SE) that was supposedly being restored by a friend. The Roadrunner was "too complete" and out of my budget range, but the Charger was the type of project car I was looking to obtain. Here is what I saw that day…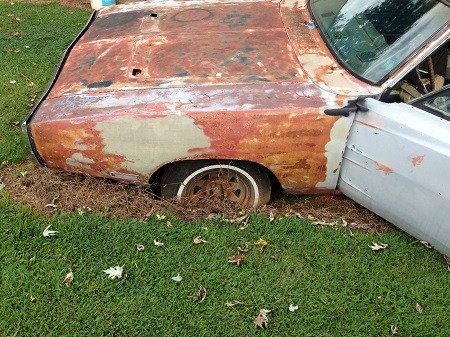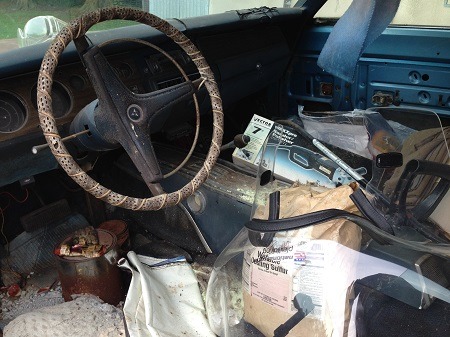 … a B5 blue, numbers matching, 1970 Charger R/T with a 440, automatic trans, console, bucket seats, air conditioned, power brakes, power steering, B5 blue interior, white vinyl top and white stripe project car.
We struck a deal and a few days later it was loaded onto the car hauler and moved to my shop in Columbia. Here it is a little cleaner joining the other Mopars in the quonset shop.
As you can see the "restoration" consisted of removing the vinyl top, most of the exterior trim, tail lights, side markers, rear bumper, interior door cards, bucket seats, rear seat and various other interior components. The console, carpet and interior wiring was still intact. The R/T scoops on each side were removed by the restorer's wife and her riding lawn mower. It had been in the yard for 8+ years and evidently it was important to cut as close to the vehicle as possible … and for good measure, run over the scoops after they were knocked off.
Now, the inspection begins …